Miracles for Children, how Aloft Wichita is helping Kansas Kids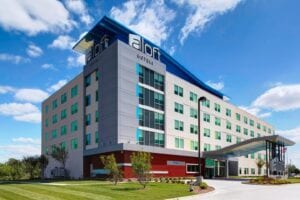 Aloft Wichita at K96 & Oliver is doing everything they can to get through the trials of COVID-19. Like so many other businesses in the hospitality industry, they have seen a reduction in guests, adopted the necessary sanitation methods, are practicing masking, and enforcing social distancing to ensure they remain a safe space for those still needing accommodations. 
Aloft is a pet friendly boutique hotel that offers dining, recreational and fitness spaces, and an outdoor pool. Whether you need a night out of the house, have family coming to town, or just want to try out a new hotel, consider booking under the new  Miracles for Children discount rate. Booking under this rate will provide you 10% off the current rate and 10% of your paid rate will be donated to help the smallest patients treated at CMN at Ascension Via Christi.