A Day In The Life: The one where we gain a new partner AND I get a car wash.
With 62 Children entering a Children's Miracle Network Hospital every minute, you never know who you are going to meet that has been touched by the work of our program. One story that has turned from a patient being helped to now giving back, involves a family-owned car wash chain making its appearance in the Wichita area! Club Carwash, located at 2171 N 127th St. in Wichita and 2401 N Rock Rd in Derby with more locations soon to come. It's a full service car wash facility ranging from $10 to $40 per wash. With the opening of the Derby location, Club Carwash requested to work with our local CMN program with a $1 carwash fundraiser, all proceeds coming back to help sick and injured Kansas kids. 
"Club Carwash is a proud supporter of Children's Miracle Network. We are excited to team up with CMN at Ascension Via Christi and continue to grow our presence with Children's Miracle Network. Club Carwash has worked with other CMN chapters in Missouri as well! This organization has been near and dear to our owners heart because of some of the struggles they have endured. Club Carwash COO Collin Bartels has undergone 2 bouts of Leukemia, a bone marrow transplant, and many other health issues since he was 3 years old. We believe it is important to give back to people that gave to us. "We are here to help support other children and families as they go through one of the toughest times in their lives. We understand those hard times and we understand what it takes to get through this challenging time" says Emerie Burgher, Senior Marketing Manager at Club Carwash
Another perk of my job as CMN Program Director assistant is visiting our partners to find out all the products/services they provide AND getting to help sick kiddos! I went to the new Derby location on January 21st to wash my covered-in-mud Jeep and I am thoroughly impressed with how it turned out! One problem I have run into with car washes is some won't let me go through because of the grill guard or other modifications to my Jeep. Club Carwash had a hybrid wash of employees with power hoses and the automatic machine. I think this gave it the extra clean look in crevices the automatic parts don't reach. It was a cool experience with pretty color changing lights! Enjoy these before and after pictures featuring my black lab Willow as well (look hard, she blends in)! She also thought it was a great wash.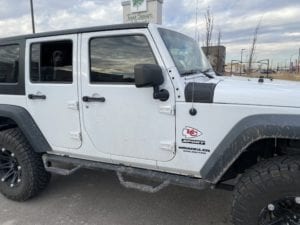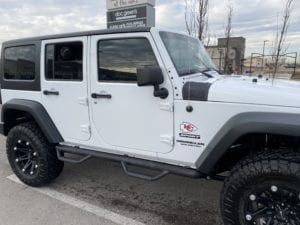 We look forward to working with Club Carwash as they continue to open locations in Wichita and surrounding areas. 5 new locations are planned to open within 2021! Look for a Club Carwash near you. Your vehicle will be clean and you will be supporting a business who is near and dear to our Children's Miracle Network hearts!